Just like a construction venture, the overall cost that it may take to build a basketball court depends on a variety of different factors. But one of the most prominent factors is the size of the court. The bigger the court you want to build, the more money will be required to put everything together. There is no argument over the fact that the basketball courts cost is one of the most important factors for almost anyone and everyone.
This is why it is essential to be familiar with the details of all factors involved in building such a court and what each one of them is going to end up costing you. Taking this into consideration, we have taken the liberty of crafting this well-researched guide for you that explains the buying and installation cost of a backyard basketball court. Without further ado, let's take a look at the costs involved and lend you a helping hand in making an informed decision.
Construction and Installation of the Basketball Court
Before installing any basketball court in your house, you need to prepare the land for some work which is necessary if you want to keep the court intact in the long run. The installation of backyard basketball courts cost a lot. This is because the court itself along with its accessories is sometimes tough to assemble and is not a single person's job. Assembling of the court and then painting it may take about two to three days depending on the number of people working on it.
Though a lot of companies are now making simple basketball courts, therefore, assembling them is easy and the only unexpected problem that may arise with this step is the labor cost. So many professional services charge around $350 per day for providing labor and another $300 for their travel and other expenses. By now, you may have used up all your money, energy and time in this project so you should always consider taking professional help as they are fully able to support and give quality work when installing a basketball court in your house.
Components and Accessories of A Basketball Court
A lot of people like to add unique and fun accessories and parts in their basketball court. They may look out for things such as unique basketball hoops, net systems, lighting, rebounders and containment netting, etc. Adding these particular components and accessories depend significantly on a family's needs because the more accessories they choose, the more will is the outdoor basketball courts cost. On the other hand, having more accessories mean it will be used more and so many friends and family members would like to join the game as it will be so tempting for them. This can be a massive return for all your investments.
Adding a good glass backboard, extra game lines for badminton/volleyball/tennis, premium tiles, and flexible net systems will run you around $30,000 along with the purchase as well as assembling. All these accessories are more than enough to change your backyard into a professional multigame court that has an excellent net system, game lines, custom lights for day and night, containment nets to avoid runaway balls. The end decision though is entirely yours where you are the only one who can decide what kind of accessories would go with your basketball court and then tale guidance and suggestions based on your affordability and budgeting.
The Surface of the Basketball Court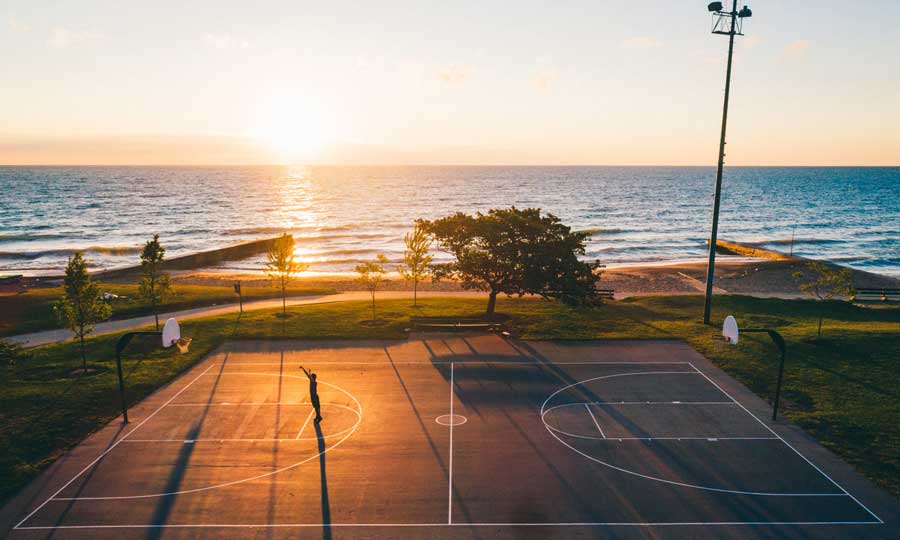 Before considering what kind of base you would like to lay on your basketball court and that how much does a basketball court cost, you must first try and set out the excavated surface of your backyard and prep it for further processing. The ideal base to be used when installing a basketball court is concrete. Therefore, the type of concrete base you are using should be around 4 inches thick for which concrete with 3000 psi works best.
The original cost of these concrete slabs may range from $4 to $8 per square foot. But in the market, this price can also vary to a greater extent depending upon some factors such as usage of a pump truck, excavation and drainage issues, grading problems, and thickness of the edges, vapor barriers, sub surfacing and expenditure of wire mesh.
After you or the professionals have laid out the slabs of concrete on the ground, you can put tiles on them to give it a smooth and shiny look. If you are not comfortable in using tiles, you can use other player-friendly options such as brick pavers, asphalt and sport tiles that can cost you around $3 to $5 per square foot.
The Base of the Court
There are so many options available in the market that can be sued as a base material. The base material you hose for your backyard determines as to how much is a basketball court in total. Concrete, asphalt, modular basis and crushed stone are some of the base options. Although a lot of people prefer using concrete in their basketball courts as it gives a permanent structure that doesn't require any extra maintenance over time. People who want less permanent base due to zone restrictions and additional coverage can go for a modular basis. Sports base is another option which is currently very famous among homeowners as it gives their basketball court an edge and advantage over others.
These base materials are not only eco-friendly but can work as a great alternative of concrete. They can give the same amount of strength and permanency as concrete that too in $900 overall. They are also perfect for reducing the need for any heavy tool and equipment, but it also aids in preventing easement restrictions. They are also much safer to be used during basketball games since they not only reduce the basketball court price but have high shock absorption tendencies with high head impact to help the player during an injury or a simple fall.
Size of the Basketball Court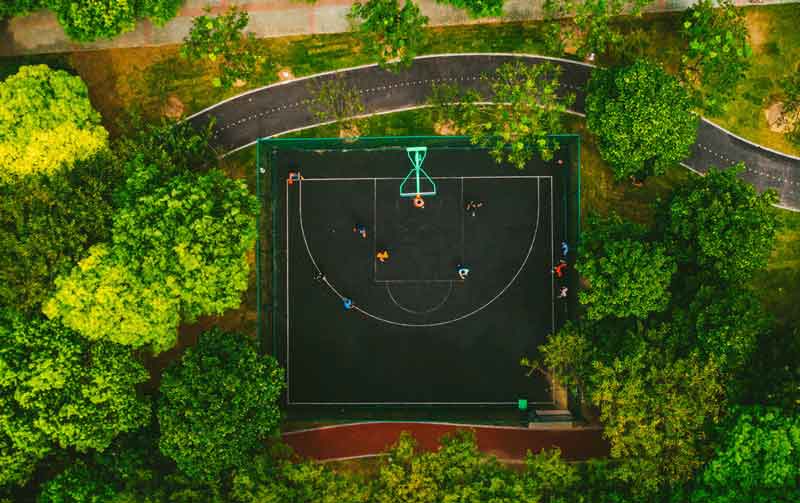 One of the most obvious factors that determine your basketball court cost is its overall size. The larger the basketball court you decide to have, the more you will have to expand your budget to meet the needs. There will be extra costs for the excavation which can exceed from $50 to $200 per yard depending greatly on the geology of your backyard, the site of the assembling and the local rates. No basketball court is complete without a fancy hoop in it.
There are so many options that you can choose from, i.e. portable or inground basketball hoops according to your requirements and demands. If you are planning to have a big size basketball court, then you will need a right quality hoop which may cost you around $100 to $300 depending on the size of the backboard and other factors. The installing of these hoops is another thing which will require you to spend an extra $300 if you are hiring professional help to do the work.
Working Site
The cost of basketball courts also depends on the site that you have chosen for the making and assembling of the court. Before starting any work, there is a little preparation that needs to be done so your property can be prepared to install the basketball court. A professional may help you achieve a hard, flat surface with $300 a day and carry out excavation, leveling, grading and shifting of the sprinkles to get the ground ready for serious construction.
Depending on the area that you live in, preparing the site for assembling usually has the most significant expenditure associated with them. If you are planning to have a more significant court, then more amount and labor efforts will be required to finish the task. This is the reason why some obvious questions like who will be preparing the site for construction and what is the accessibility of your website are some of the primary considerations to look for before making any permanent decisions. If you do not have adequate access to these things, it will limit the overall working on your basketball court, and it may lead to an even higher expanse and total cost of the work. If the time takes longer, you may also need special equipment to do the job which may become very hectic and fanatic.